Since barely anyone can call themselves a proud owner of Pebble Time and Pebble Time Steel (yet), the market for docking stations is still in its baby shoes. Nevertheless, a few clever people have done some great work and already developed charging docks for our beloved Time piece.
Update (18.06.2015): dockTime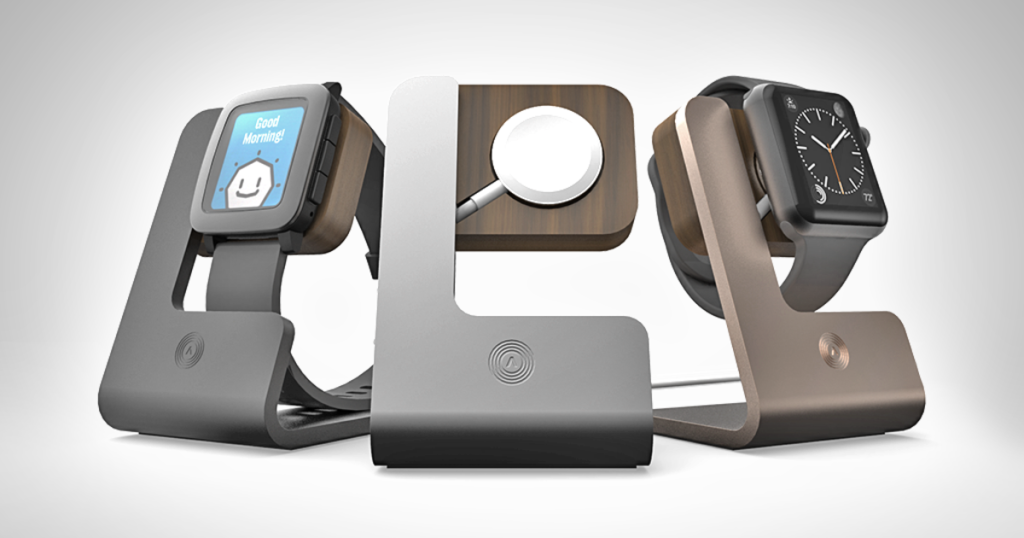 Being unhappy with the available accessoiries for smart watches, Australian team Aerios have designed this dock to give your Pebble Time and Pebble Time Steel a pretty home on your desk. It is made out of anodised aluminum which is available in gold, black and silver, accompanied by a contrasting walnut timber element that holds your watch. The footstand has a sticky base made out of Pu Gel so the dock doesn't slide around when you try to attach the watch with one hand. It integrates your Pebble Time charging cable to easily allow you to get more juice.
Moduul's Indiegogo campaign has already ended, but you can preorder the dock on Aerios' website for $50 starting June 30th, 2015 – actual release will be at some later date.
P.S.: It works with other smartwatches, too.
---

For the same price as Moduul, the aluminium-made Timedock may not look as sleek and elegant, but it comes in a wide array of colors, including silver, black, gunmetal grey and rose gold.  The micro suction cup coated base prevents it from slipping around. It also includes an integrated charging cable, so you won't have to use your original cable for charging with the dock. There was also a specially designed watch face, that automatically opens as soon as you put your Time on the dock. Due to some changes in the Pebble SDK this nice feature isn't working right now, but will eventually come back in the near future (available on the Pebble Appstore).
Take a look at our in depth review.
TimeDock is now available on Amazon
---
TikDok by Sriram Sivakumar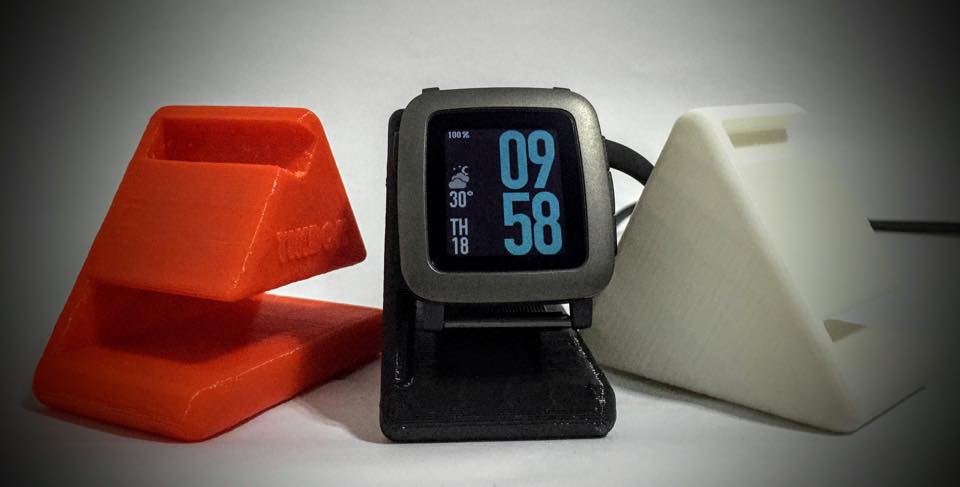 Pebble Junkies member Sriram Sivakumar has developed a docking station for Pebble Time and Pebble Time Steel. It's 3D printed out of PLA plastic and comes in black, white and red and easily integrates your original Pebble Time charging cable.
For people looking for a not so flashy and less expensive option, this might be the one. Head on over to TikDok and grab one for just $15!
---
dockTime by Rodrigo Rivas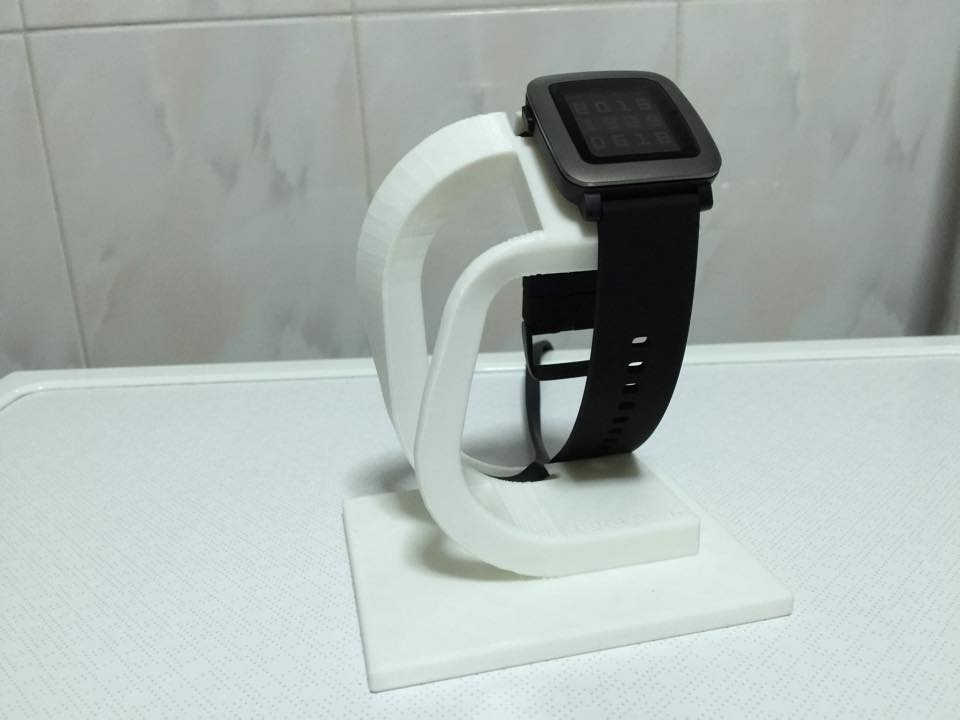 Another great Pebble Time dock right out of the community! Rodrigo was on the hunt for a docking station that would lift the Pebble Time a little higher from the table's surface. Since he couldn't find one, so he decided to 3D-print one himself. It features an arch-like shape on which the Pebble Time site on top. The USB charging cable clips in at the top of the docking station so you can charge it while having it on your desk. From what it looks like, the Pebble Time will lay on the dock at a little flatter angle compared to the other options – but that's a matter of taste. It reminds me a little of this guy. The flatter angle also means, that you'll be able to have your Pebble Time sitting on the dock without the charging cable being attached – in case you just want to give it a nice place to sit on. The first version is also made out of PLA plastic, but he says Laywood(PLA with wood in it) or Laybrick(PLA with chalk to simulate stone) would also be viable options – depending on the demand.
dockTime is available for $23, prices for the Laywood or Laybrick versions are likely to be slightly higher.
---
Keep in mind, this is by no means an exhaustive list. Pebble Time and Pebble Time Steel haven't even landed on open markets yet, so make sure to check back in once the Time has come – we're sure there'll be many more great options!