Finally, we've been able to get our hands on the first docking station designed for Pebble Time. With such a great community, it was only a matter of time until some smart minds came up with their own ideas for docking stations. Thanks to 3D-printing, turning an idea into reality must not be a very long journey. The creator of TikDok started shipping the first units merely 5 days after coming up with the concept. Shout out to Sriram Sivakumar, who was kind enough to send us a pre-production unit for testing purposes.
When you receive TikDok, don't expect a fancy packaging or elaborate descriptions. The dock comes in a no frills packaging that gets the job done. You'll notice quite early: TikDok is about being simple and efficient, which is also reflected in the low price of $15.
Without having much experience with 3D-printed objects, TikDok is made out of PLA plastic, which seems to be the standard material for 3D-printing. It feels super light and I wasn't sure if it would sit firmly on my desk. Nevertheless, it feels sturdy and doesn't appear to flex when you try to bend it. After I got home I already got the first surprise – the white TikDok hat some stains from my black backpack in which I stored it after picking it up from the post office – of course I had to open the package right then and there since I was so curious. I wasn't able to wipe the stains completely off the dock, but they weren't that bad any way. I wouldn't worry too much about it though, since most people's desk probably won't be a stain-danger-zone and the issue isn't likely to come up in the other color variants.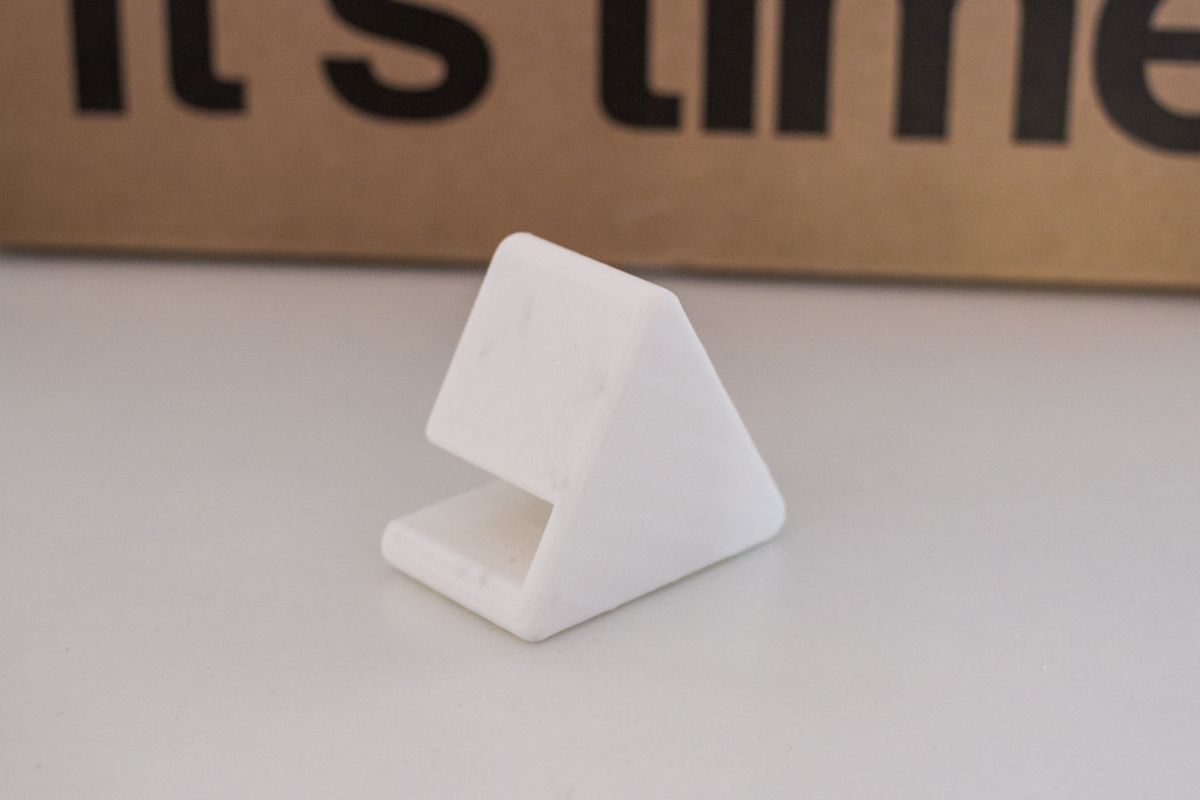 The size of the dock seems to be adequate since the watch fits perfectly around it. Once I had the watch sitting on my desk, I noticed quite quickly that vibrations from notifications are transferred onto the surface of my desk quite heavily, which can be quite annoying. I guess this can be attributed to the light weight of the dock and maybe also the wooden surface of my desk.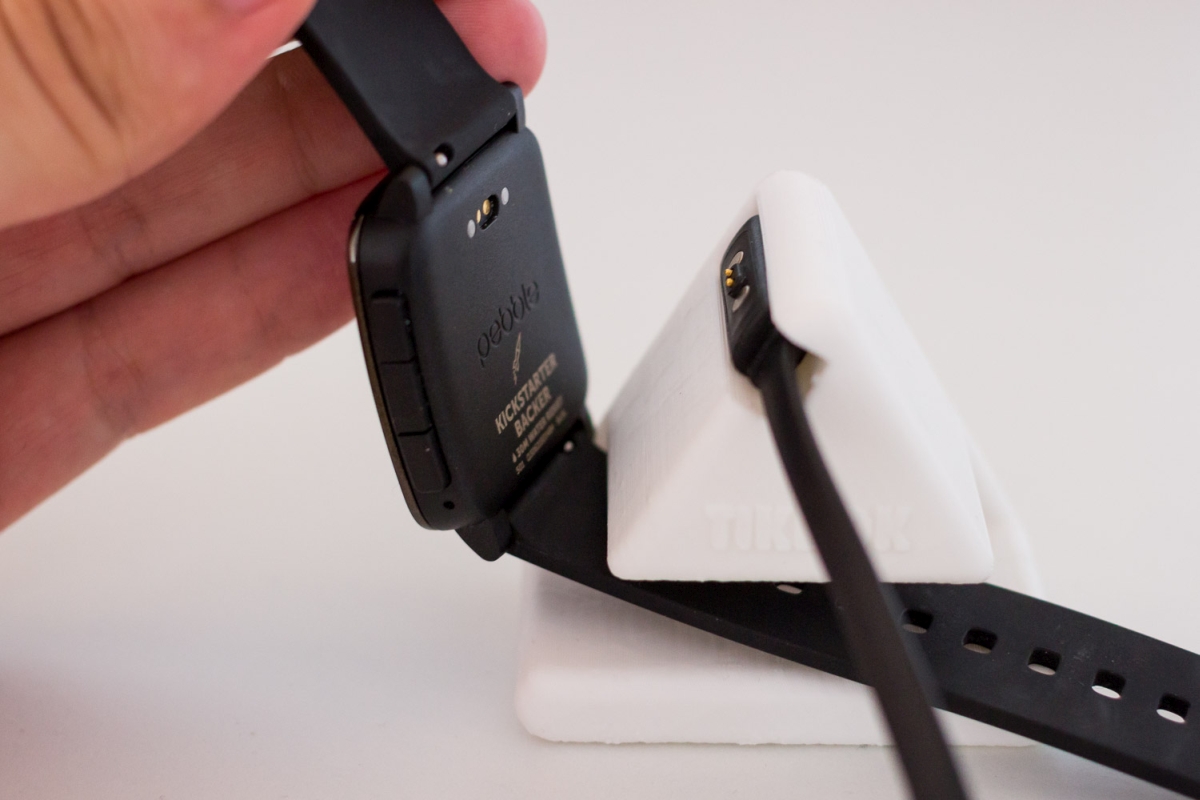 The slot for the Pebble Time charging cable fits the cable very snugly. It's the same size as the charging plug itself, so you'll have to press the cable into the port with your finger. Once it's in, it sits in there quite firmly and you won't have to worry about it getting loose. To attach the watch, you just lean it slightly against the dock so that magnets of the charging port catch on to the charger and you're done.
---
Verdict: I like how the Pebble Time looks on TikDok next to my laptop. TikDok surely doesn't look and feel as premium as some of the more expensive options. But bear in mind, this is no $50 accessory for your Pebble Time. For $15 you'll get a dock that does what it's supposed to. Would I spend more money for a fancier dock? Likely not. Pebble Time and Pebble Time Steel's batteries last almost a week or longer and charge super quick – the watch wouldn't be spending much time on the docking station anyway. On the other hand, if you're looking for a dock not just for charging purposes, but also to give your Pebble Time a pretty place to rest on and to be tidied up, then you might go for some of the more high-end options, like Moduul or Timedock. If you have access to a 3D-printer and don't want to purchase a pre-printed dock, you can find a few docking station options here.
TikDok is available here in white, red and black for the price of $15. There's also the Plus version which will store your smartphone in addition to Pebble Time and Pebble Time Steel. So far, only support for iPhone 6+ is official, but according to Sriram, all smartphones with a width of less than 10cm should work.
The picture gallery probably describes most of what I've written above a lot better, so check it out!