Pebble Time with Michael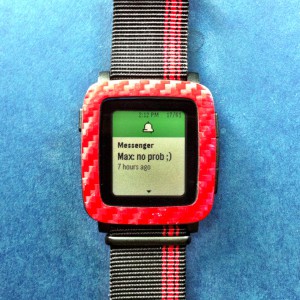 In the past, I was quite skeptical about the real usefulness of smartwatches. Weren't they just annoying, distracting, and expensive devices that require constant charging? How much better would it be to own one when I've been happy with the functionality provided to me by just using my smartphone? So then, what are my conclusions now about the Pebble Time, my very first smartwatch, after owning and regularly using it for a little over 3 months?
First of all, after 3 months of living with it I now actually feel myself just taking my Pebble Time smartwatch for granted. It's no longer a bright shiny new tech toy that I feel compelled to play with. It's just there on my wrist. It's always readily available whenever I need it and it's always up to the challenge of getting my attention when there is an upcoming event, an email, a phone call, or a message that will likely require my attention. It also provides me with the current time, date, week day, current weather conditions, daily forecast, and battery status all from just a quick glance at its watch face.
Read moreMy 3 Months of Living with a Pebble Time