Pebble Time with Michael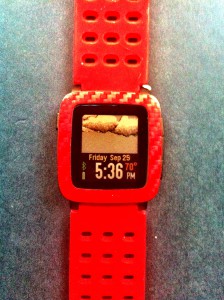 Every time I think I've gotten my Pebble Time into a completely stable and unchanging condition, something new comes along that catches my eye. It may be a new watch band or watch face or wrap. It may be a new or updated app. Somehow something always seems to keep driving me to make tweaks to the set up of my Pebble Time. Well it's happened again, and this time it involves two things: a new watch band and a new watch face.
The picture shows what I'm speaking about. The red watch band is from Hammer and it has replaced the NATO black and red watch band that I previously had on my Pebble Time. I actually backed the Kickstarter campaign for this watch band and received my new band a few weeks ago. I'm really loving it. I may even get another Hammer band in black in the near future.
Now I really didn't have any big problems with the NATO band I previously had on my Pebble Time. It was lightweight and quite comfortable. The design of the NATO watch bands makes for a very secure attachment. If one of the attachment pins breaks and/or comes off of the watch, the watch will still be held on your wrist with only a single attachment point.
The only real gripe I had about this band with the fact that it completely covered the charging port of the Pebble Time with two layers of watch band. In order to charge the watch I had to push one side of the band through it metal attachment clasp in order to create a loop of two band layers under the watch sufficiently large to allow the charging cable to be attached to the charging port. Admittedly this was a pretty minor inconvenience – but it was an inconvenience nevertheless. In addition, this meant that I couldn't use any kind of charging dock with my Pebble Time as long as the NATO band was attached to it. Now I don't actually own one yet, but again, a minor additional inconvenience.
So, when I saw the Hammer Kickstarter campaign a few months ago I really found myself being attracted to the design of his bands. They looked to be very well made and comfortable. I especially liked all of the ventilation holes in the bands. One of problems I had with the original silicone watchband that came with my Pebble Time was that it caused me to sweat under the band. The ventilation holes looked like they would address that issue.
Well, the band has turned out to be just as good as I had hoped it would be. It's lightweight, comfortable, and cool even on hot summer days. It looks nice and goes well with the red carbon wrap I have on the watch. So my black Pebble Time has been just about completed transformed into a red one.
I am actually thinking of getting a black Hammer band, though, so that overall appearance of the watch and band would be a little more subtle. Who knows, perhaps I'll soon be writing about making that change to my Pebble Time, too.
The other big change to my watch is its watch face. I'm now using Cool Weather as the Pebble Time's primary watch face. This may surprise you as I've been pretty adamant over the past few months over how perfect the DIN Time watch face is for me. Well, the romance is finally over, and a new favorite has appeared on the scene.
I'm paying $9.99 to enable the premium features of this watch face. In fact, it is the premium features that make this face desirable to me. As you no doubt realize from my past romance with DIN Time, having accurate weather information on my watch face is important to me. At least one of you readers has commented about some surprise over this apparent obsession with the weather, but that's just the way it is with me. I want to be able to glance at my watch face at any time and see that current outside weather conditions and temperature. With DIN Time, it was hard to tell just when the weather information had last been updated on it and I also ended up with some iffy temperature readings on occasion. I was starting to doubt the accuracy of the weather information it was presenting to me.
With Cool Weather, and its premium settings, there is no longer any doubt about accuracy. First of all, the watch face allows you to select the service to be used by it to present the weather information. I prefer forecast.io and already use it on my laptop. It seems to provide the most accurate weather information for my home town. The option to use the service is available with Cool Weather. In addition, you can specify frequency of weather updates. I've got Cool Weather set to update every hour for increasing the accuracy of the current reading. The kicker, though, is that fact that the watch will actually tell you the time that it was last updated by just shaking your wrist. This really helps in my confidence regarding the current weather information presented. Oh, and it also has some cool animations of the current weather conditions, but I actually could care less about that feature. It's all about control and accuracy for me.
So, those are the latest changes to my Pebble Time. I'm still extraordinarily pleased with this smartwatch. I don't even have any plans to replace it with one of the new round Pebble watches. I'm a happy camper!