The biggest drawback of the Pebble Time Round is definitely its abysmal battery life. Usually, the Pebble Time Round clocks in right around two days of use – meaning you're charging it more frequently than any other Pebble. I wanted to find something that didn't require me to leave a cable next to my bed to charge my watch every day since I have to juice up the PTR a little more frequently. We found the perfect solution with this cool micro-USB charging stand for the Pebble Time Round.
Why not just use the magnetic cable?
We're not saying that charging is difficult. Pebble magnetized the cable so that connecting it is pretty effortless – what more could you want? Well, we really love the idea of a dock or, in this case, a stand. A stand like this is about more than just charging the watch. It's really aesthetically pleasing since it helps to reduce cables cluttering up the desk or bedside table. This stand for your Pebble Time Round is a must for the minimalists out there. The stand itself is made up of a glossy black plastic. It's a really deceptively simple design that works well with the magnetic charging port on the Pebble Time Round. A single micro-USB port is located at the base and the connection feels very secure.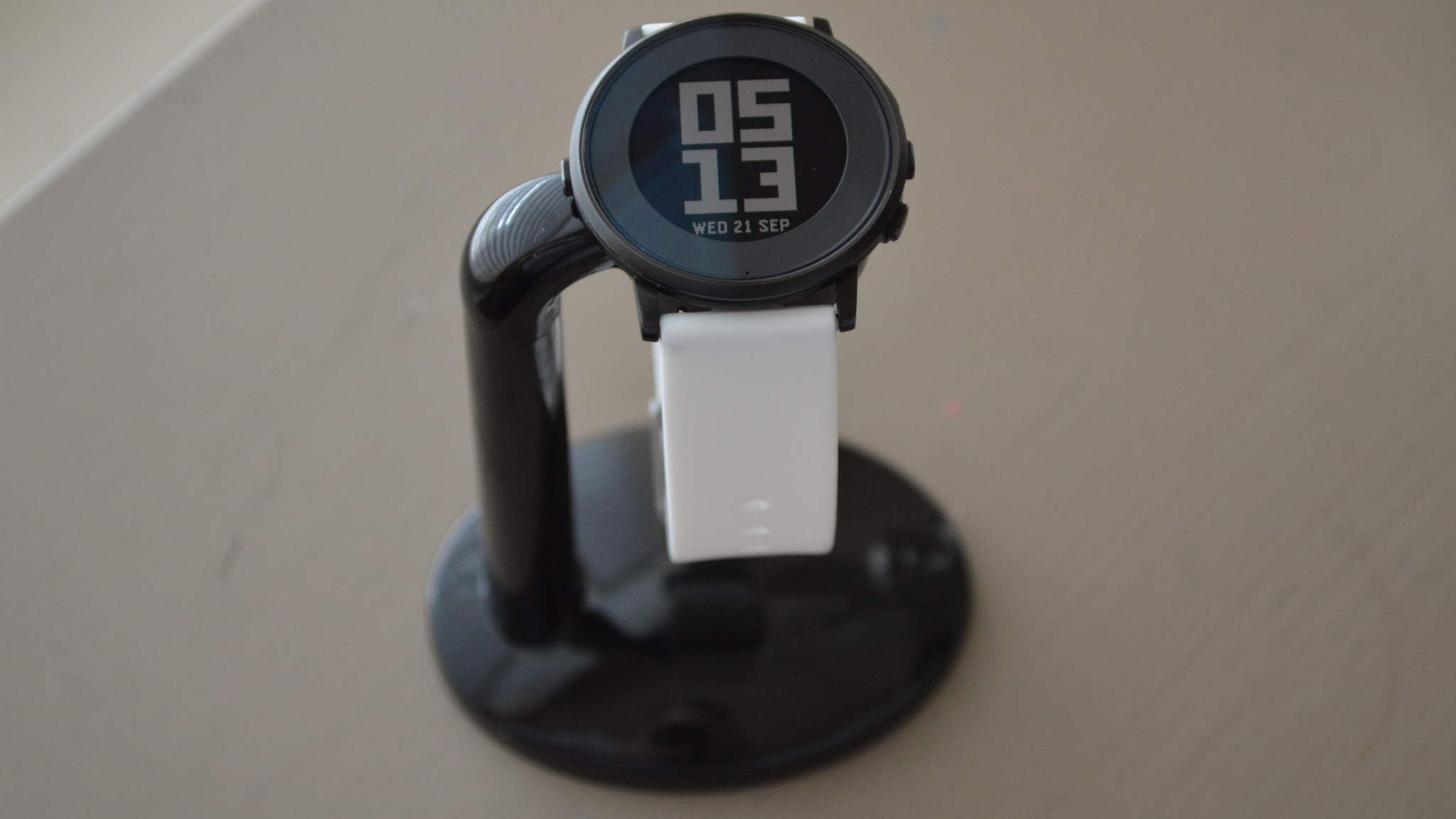 What we loved
The first real win with this charging stand is its design. It's simple and sleek – all while remaining completely functional. The slim arm that holds the weight of the watch stays out of the way for whatever band you're sporting (true Nato band users will have to adjust the band slightly to take advantage of this stand). During my testing, the stand stayed connected and in place. I never had to worry about it tipping over or moving around too much. You could always put some double-sided adhesive on the bottom to keep it in place.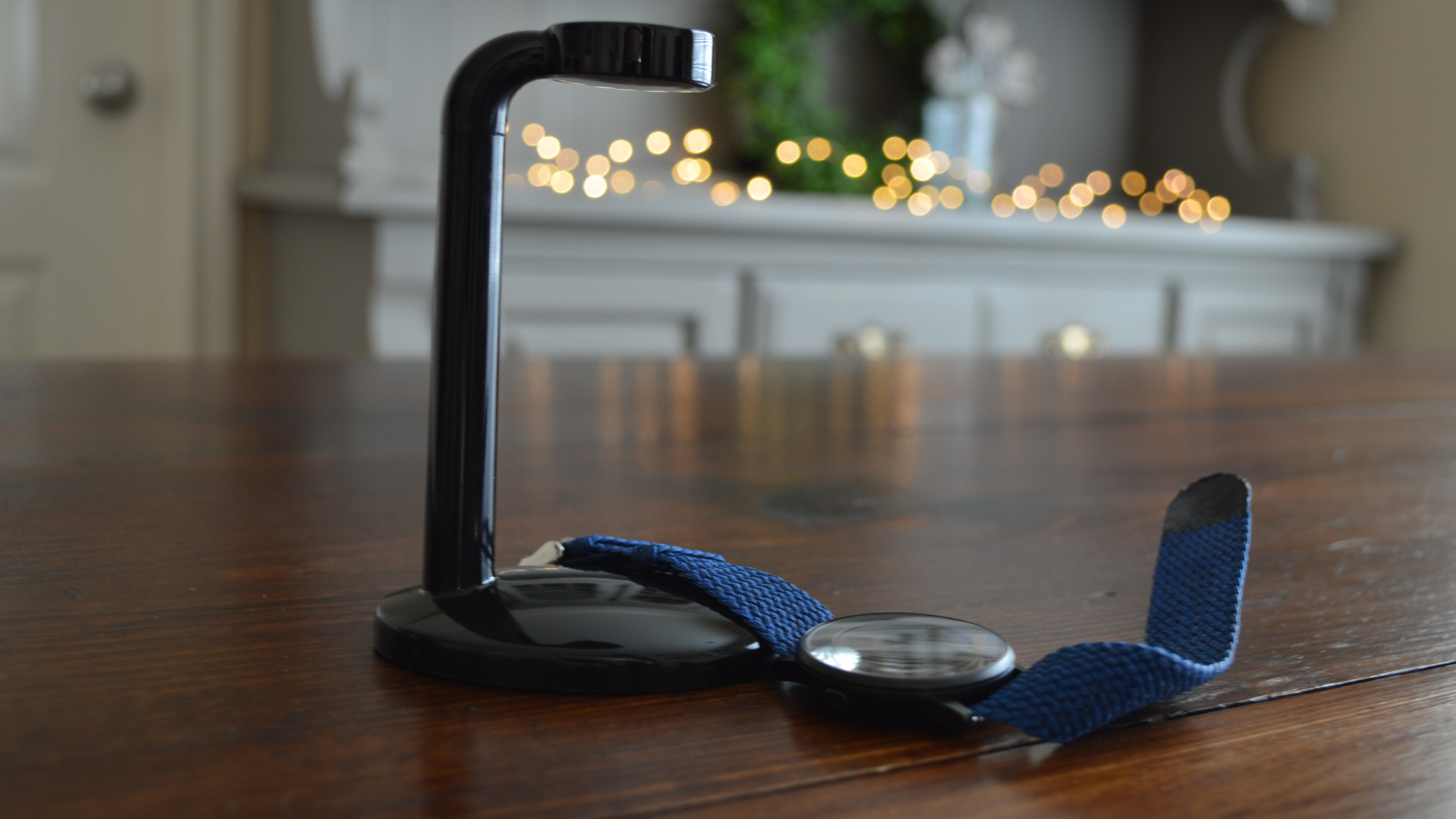 Another reason this dock is a must-have is the pricetag. You can pick up this charging dock on Amazon for less than $17! A new charging cable alone costs around $15 for the Pebble Time and Pebble Time Round. For the money, this accessory is a great value.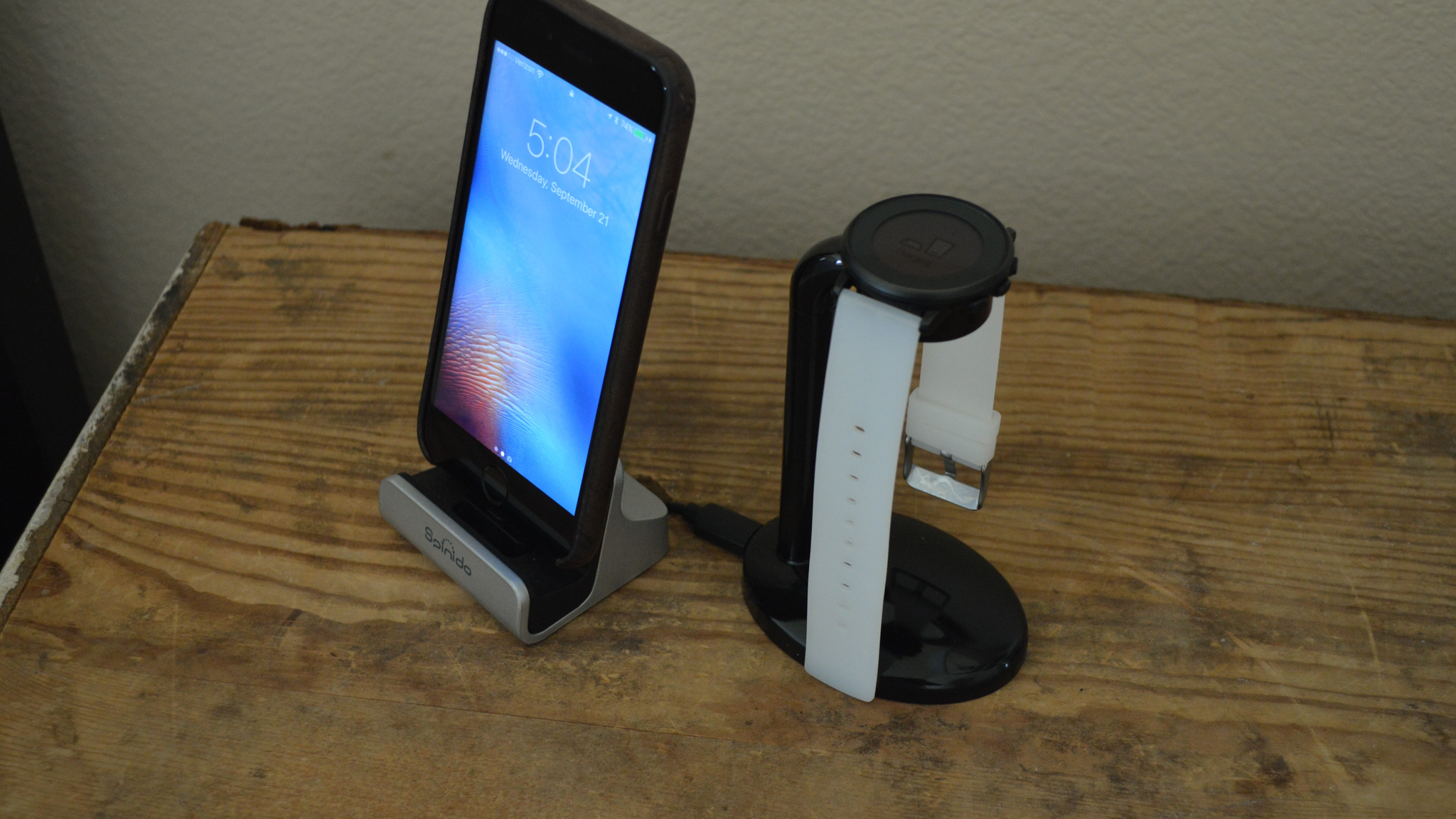 Probably the best thing about the micro-USB charging stand for the Pebble Time Round is the magnetic connector. The strong magnets quickly grab the watch as soon as its hovering over the pins. It's a satisfying connection that is really reliable and easy to find. It may seem like a trivial thing to appreciate, but the best part of a stand or dock should be the actual 'docking' experience. Plus, the way that the arm is designed makes it very easy to hold the base of the stand while grabbing the watch so that you don't end up taking the whole thing with you when you pick up your Pebble.
Room for improvement
Not every aspect of this dock is design perfection. There are a few changes we would like to suggest in order for this to be considered the perfect dock. Instead of plastic, we would love to have seen an all-metal construction. Given the sub $20 price tag plastic is understandable. A metal base or aluminum construction would have felt a lot more premium, even if it meant a higher price.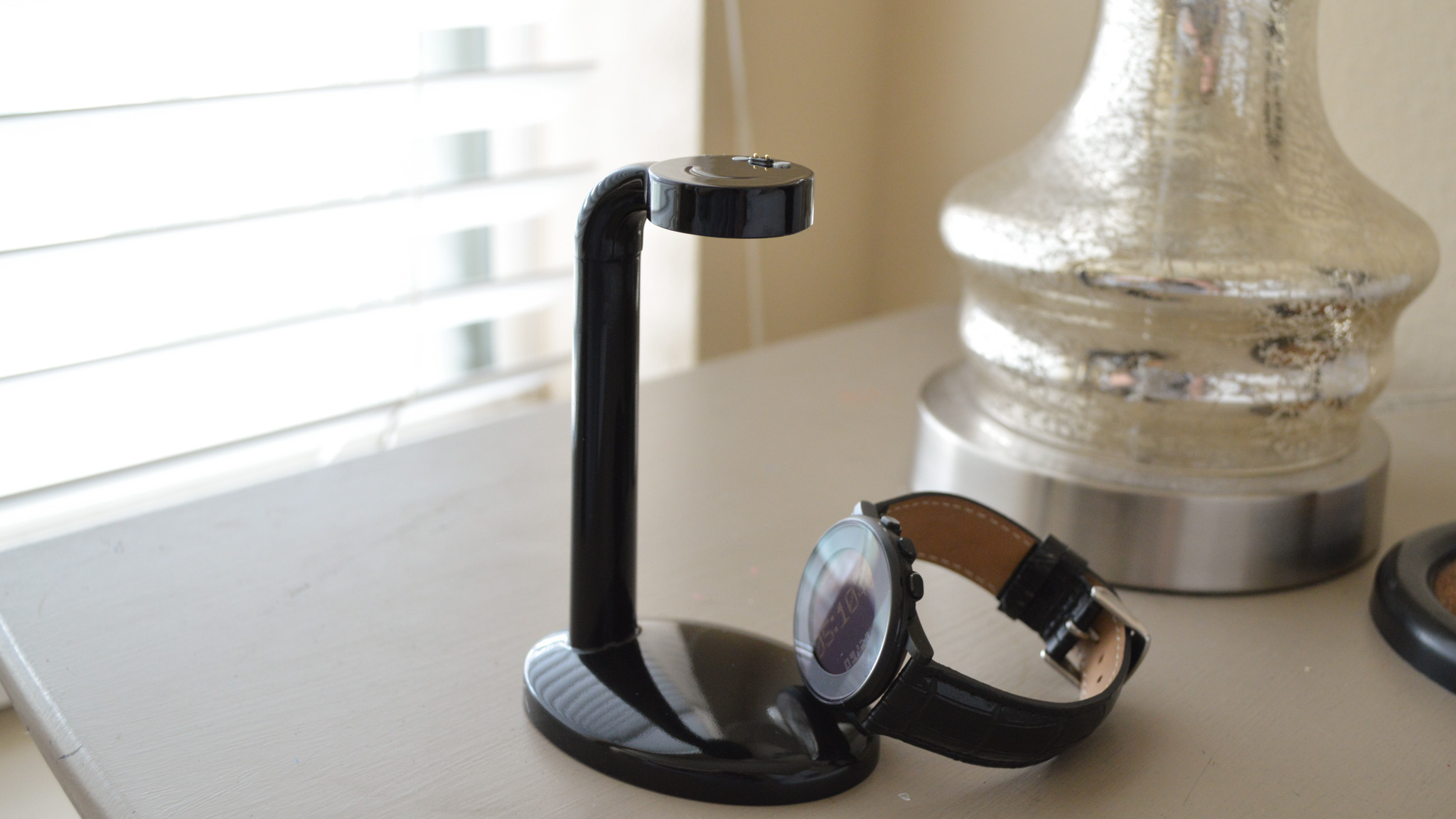 Another thing we would change about this charging stand is the glossy finish. The stand attracts a lot of dust and it shows (fortunately its size makes it easy to clean off).  The glossy finish looks a bit more premium (iPhone 7 Jet Black anyone???), but we think a matte finish would have matched better with the black Pebble Time Round.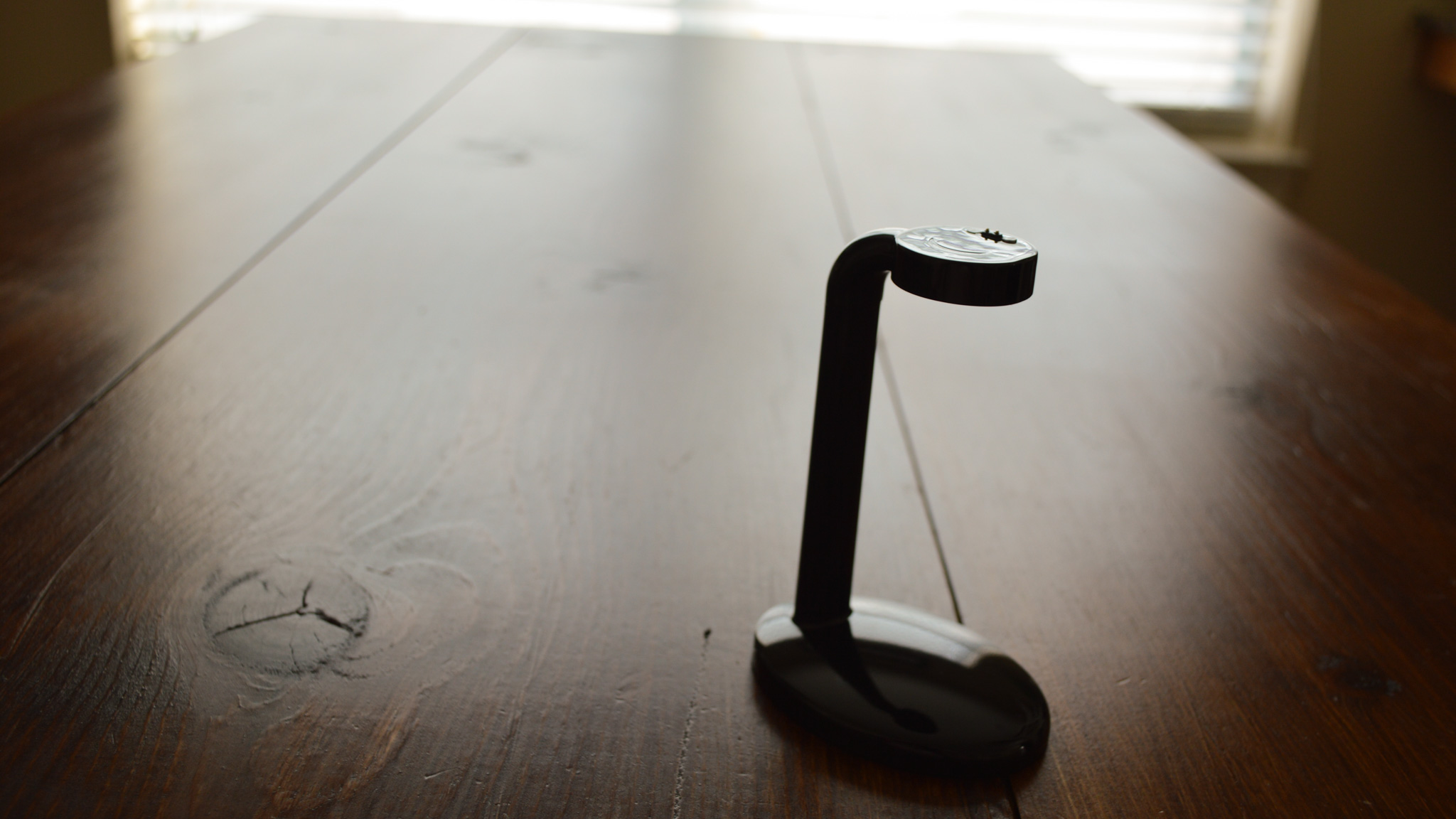 Photo by Greg Dunn
We would have also liked an included micro-USB cable with the charging stand. I'm sure it helped to keep the cost low, but cables are cheap and including one would have been an easy way to up the 'bang for your buck' factor. The lack of a micro-USB cable isn't a deal-breaker, but it would have been nice to see one wrapped up in the packaging.
---
Verdict
Overall, this charging stand is an awesome value. A low-budget plastic build and the lack of an included micro-USB cable don't stop this thing from being a killer accessory. If you're looking for a simple charging solution for your Time Round, we highly recommend you give this one a shot. For the money, we think it's the best charging solution for anyone that's part of the Pebble Time Round family. If you like this accessory, be sure to check out our thoughts on the micro-USB charging adapter for the Pebble Time Round.. We also found a really similar dock on Amazon for the Pebble Time that we think is worth checking out.
Buy the Pebble Time Round charging stand on Amazon
---
Eyecandy