Pebble Time with Michael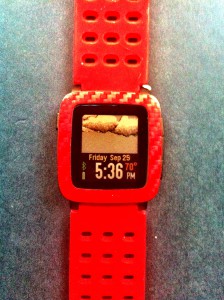 As I mentioned in my last article here, I recently changed the primary watch face on my Pebble Time. I was using DIN Time and I'm now using Cool Weather . An interesting thing has happened since I started using Cool Weather- the battery life of my Pebble Time has dropped dramatically. I used to get 4 to 5 days between charges and now I'm getting 2 to 3 days. What's up with that? What really impacts the battery life of a Pebble Time?
Of course I regularly read on the Internet of people getting up to 7 days of battery life from their Pebble Time watches. Why do some people get such great battery life compared to what I've been seeing? Well, it really comes down to functionality vs. battery life. The more you use a Pebble Time, the less battery life you'll be getting.
Read moreTrading Functionality for Battery Life with a Pebble Time