Pebble Time with Michael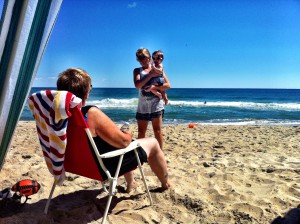 This past week my wife, children, and grandchildren spent time on the Outer Banks of North Carolina. We rented a large house right on the beach and enjoyed sunbathing, walks along the beach, fishing, playing games, and relaxing. It was a wonderful vacation!
Of course, my Pebble Time came along with me for this trip. Did it enhance our vacation in any way? Of course it did, and here's how:
The first way my Pebble Time really helped me out occurred right before we left for this trip. While packing our car, my Samsung Galaxy phone slipped out of my shirt pocket without my noticing it. When I returned to our house and sat down on our living room couch, my favorite watch face, DIN Time, alerted me that I had lost the connection to my phone by vibrating three times and displaying a Bluetooth icon. I reached for my phone to see what the problem was and then released that it was gone. I walked back out of the house to my car and saw that the Bluetooth warning icon had disappeared from the DIN Time watch face. This immediately clued me into the fact that my Galaxy phone was somewhere in or around the car. A thorough search with my wife's help turned up the missing phone inside a cardboard box in the back seat. If it hadn't been for DIN Time when I finally discovered that my phone was missing I would have had absolutely no idea where I had lost it and could have wasted a huge amount of time searching all over for it. My Pebble Time really saved me an immense amount of aggravation!
Nav Me guided me from our home to our rented house in the Outer Banks with its usual efficiency and ease of use. This app has been updated since I last used it for our trip to Atlanta in July, and the updates have really improved its usefulness. The app screen is now in color and has been redesigned for an improved overall look. It now vibrates more often, too, giving additional warnings about upcoming turns. Both the Pebble app and the Android companion app have been updated, so if you use this application be sure to update both of them. This is a great app, still my very favorite Pebble Time app, that's been made even better. Many thanks to its developer Chris Bates!
My Pebble Time also confirmed its waterproofness during this trip while I was splashing in the ocean waves. It's so nice to not have to worry about getting it wet. It's also proved to be an extremely durable watch after enduring a couple of accidental drop tests by me!
My Pebble Time helped me out in another way. I contracted an eye condition that requires me to use eyedrops every 4 hours while I'm awake. I set up daily recurring reminders on my Galaxy for 8AM, 12PM, 4PM, and 8PM, and the notifications from these reminders appeared right on my Pebble Time, providing me with a gentle and unobtrusive reminder to use my eyedrops. The notifications were so subtle that they never disturbed interactions with my family and I really appreciated that fact.
The same subtle notification system also kept me informed about important emails and text messages I received during our vacation. I personally have found that being discreetly notified of messages and reminders is absolutely the most valuable function the Pebble Time performs for me.
Of course, the wonderful DIN Time watch face also provided me with current temperature and a daily weather forecast, which I referred to multiple times each day. Got to love this watch face!
Most of my family members are NFL fans, and the ESPN app kept us all up-to-date on the opening week football game times and scores. The Timeline and its automatically synced Calendar entries also kept us up to date on all of our scheduled vacation activities. Finally, Using Google's New #ToDo Service With the Pebble Time enabled me to stay on top of all of the To-Dos associated with this making this trip a success, too.
So, my Pebble Time helped in innumerable ways in making our vacation a more enjoyable event. Thanks Pebble!