Since there are soooo many 22mm straps for any kind of watches out there we can't possibly come up with a definitive "best of the best"-list, can we? Well, in the past few months I've observed that there are a few specific straps that Pebblers seem to be especially fond of. So of course, we want to give you a list of these popular straps!
---
Replacement for Original Steel Strap
Lost or damaged your original steel strap? Don't worry, here's a $33 alternative to Pebble's own original steel strap ($50) which isn't separately available yet.
Original-style steel strap black
Original-style steel strap silver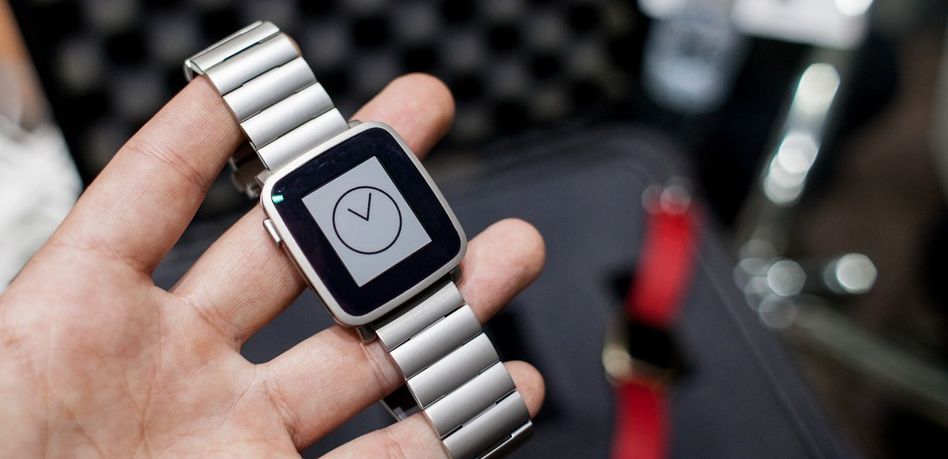 GadgetWraps Silicone Straps
You might get bored of the classic black straps – but that's why GadgetWraps straps are great: You can choose between a wide array of colors with anything from classic black to something with more pop, like a bright orange. Furthermore, you can also order some colorful "loops" for the straps, that you can then mix and match with the watchbands as you wish! Since they're made out of silicone, you don't have to worry about them getting ruined by sweat (you pig!) or water. The silicone is soft and comfortable enough to wear 24 hours a day if you use your Pebble to track sleep. Check out our full review on GadgetWraps straps for Pebble Time (Round) and also our review on GadgetWraps skins for Pebble.
GadgetWraps straps for Pebble Time, Pebble Time Steel and Pebble Time Round (all sizes)

NATO Straps
The military-style NATO straps seem to be super popular among many of us. Being available in many different colors, you can match them perfectly to your favorite watchface!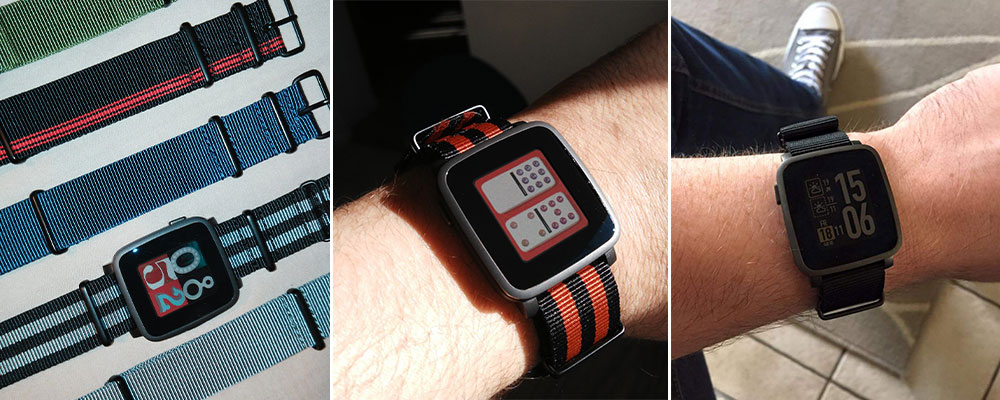 Hammer Straps by Richard Tracy Brand
Some like to go for a bolder look on their Pebble Time. While I prefer a classier look, personally, I still think the Hammer straps go well with the Pebble Time.
Hammer Straps by Richard Tracy Brand
Milanese Straps
With their fine structure, Milanese straps are a great fit for Pebble Time and Pebble Time Steel.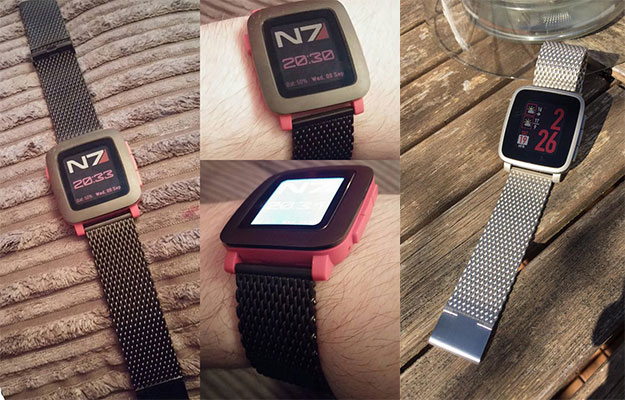 Truffol Straps
It seems like the two-tone Truffol Straps have become a fan favorite. Surely they're not the cheapest option out there, but they seem to be really high quality and come with those cool Quick Release pins!

Tintlink
Looking for something more unique, start-uppy and…Skandinavian?! Look no further – Tintlink is here to make your Pebble Time stand out. Many of their straps are made out of cool materials like suede or stingray leather (really!?), so they're sure to be different than your standard metal or plastic straps. They also have the Quick Release mechanism so you can swap the straps on your Pebble Time quickly. I'm generally not a fan of mixing premium materials with the plastic standard Pebble Time, but I'm sure they look great with Pebble Time Steel.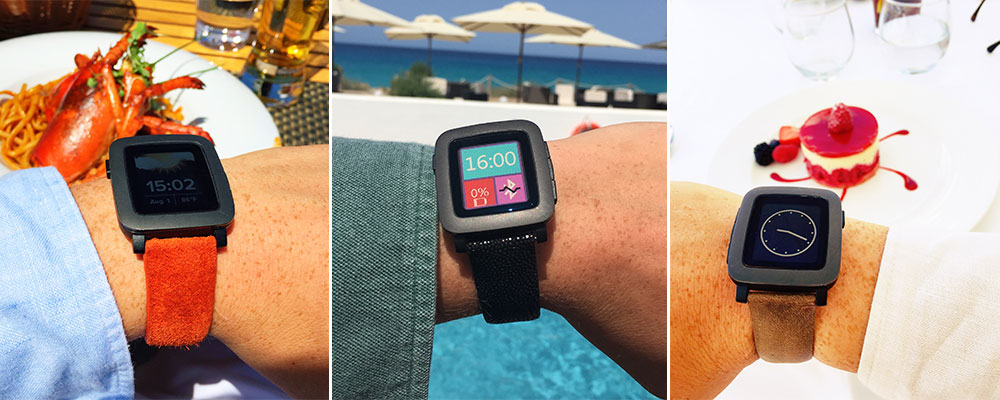 Note:
You can purchase and 22mm strap for your Pebble Time and Pebble Time Steel. When buying a strap, keep in mind that it must either have the Quick Release pins or you need to install it the old fashioned way with some tools. Don't have any tools for installing watch bands? Don't worry, we got you covered: Watch band installation kit.
Shout out to the Pebble Junkies for providing us with some great pictures!
---
Disclaimer:
We are not affiliated with any of the suppliers listed above in any way. But, by buying through these links on Amazon you will indeed support us and the development of this site. You would help us to finance our running costs, create more quality content and give back to the community of Pebblers out there. The prices for you are not affected by this at all.
We're providing Amazon.com links since the majority of our readers are from the US. If you're from the UK or Germany, we'd appreciate it if you would support us by making your future Amazon purchases through on of our associate link: Amazon.co.uk, Amazon.de
---
Gallery