Are you bored of sitting around all day during the weekends? What could you do to spend this free time? You could study for your exams, go outside for a while or you could just play some games on your phone or even cooler: on your watch. Here are some really fun and addicting games that we hope you'll enjoy playing with on your Pebble Time.
---
Are you one of them who's really addicted to the ever so popular game called 'Piano Tiles'? Well, you can now expand the experience to your wrist. Click Tiles is a fun little game for your Pebble watch where you select the black tiles and avoid the white ones while they scroll. You can tap the tiles on the left with the back button and the ones on the right with up button.
There are three modes that you can select. There's an endless mode where you basically keep on pressing the buttons and get the score when you make a mistake. Next up is Sprint mode which tests how fast you can click a set of 30 black tiles. The third one's called Lap mode which counts the number of tiles you can tap within fixed time period of thirty seconds.
It may look slow and easy at first, but it won't remain the same.
Download: Click Tiles – Pebble AppStore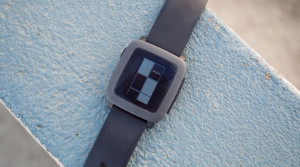 This one's is inspired by the hit iOS and Android game called '2048'. If you've played it on your phone, you know how it works. The game consists of sliding tiles to four general directions (up, down, left, right). When two tiles with identical numbers touch, they join into one, doubling the number. When you get the 2048 tile, you win. Although it is kinda annoying to use the four buttons to play the game after being so accustomed to touchscreens, its really fun and you should definitely give it a try. Nevertheless, if you have a good set of brains, you're good to go.
Download: 2048 – Pebble AppStore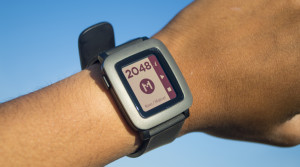 Jump Chump is probably the most addicting game out of all the ones in this article. Its a rather simple game where you press the up or down button to jump over obstacles that are on two sides of a line and try to survive as long as you can. And don't get mistaken, the concept of the game might be simple and basic, but it surely does get a lot more challenging as you proceed. It takes full advantage of the color display of the Pebble Time and is definitely a lot appealing to the eyes.
Download: Jump Chump – Pebble AppStore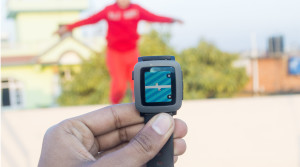 'EASY, FUN AND RELAXING GAME PLAY' – Developer of Mr Runner. The game definitely lives up to the quoted text. This game has been on top charts of the AppStore so must be something really good. The basics of this game is to simply stop yourself from running when the pillars are about to fall down such that you stop at an area free of harm. When the pillars go back to where they were, you start running again. The expressions of the character is hilarious and the colors are really captivating which makes you want to play on and until your watch dies. Its filled with different landmarks like the Statue of Liberty, Eiffel Tower, Big Ben, etc. Can you reach all of them?
Download: Mr. Runner – Pebble AppStore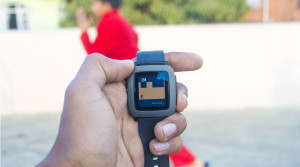 I have completed this game twice already and just recently restarted it. It's that interesting. Pixel Miner consists of a character who's always digging. Always. And that's pretty much it. You just upgrade the diggers and the speed multipliers, then watch him dig on and on. It may not sound like a fun game with little or no control over it, but when you start playing, I bet you'll get severely addicted. Have fun exploring the Pixelverse with this tiny digger; there's no end to it.
Download: Pixel Miner – Pebble AppStore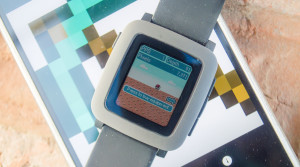 This is one of the few games in the AppStore that makes full use of the features on Pebble Time. It's a racing game controlled by the built in accelerometer with a very colorful UI. You get to choose what type of track you want to race on – loop or twisty both consisting of 3 laps each, and that's basically it in terms of the options you get.  The game is comprised 4 total racers, however I don't know if I'm just too good or its just a glitch but I've never seen any other cars racing with me. Kart will definitely keep you entertained. Just don't play it in public as people will definitely judge you.
Download: Kart – Pebble AppStore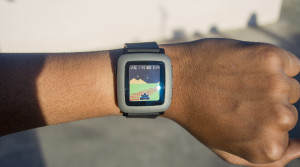 ---
So that's gonna do for this month's best games for the Pebble Time. This list was solely based on my own opinion but you must be having different selection of games. Let us know in the comments below!