We've already presented you a choice of skins for Pebble Time. Finally, dbrand have released their own Pebble Time skins. I will honestly admit that I've been a big dbrand fan for quite some time now. By that I don't only mean their great products, but also dbrand as a company, particularly the way they communicate with their customers and fans via e-mail and on social media. A purely objective review is going to be hard to do at this point, especially since I've never been disappointed – starting with a bunch of skins for my Nexus 5, my OnePlus One, and now on my Pebble Time. But this is for a reason and it boils down to two points: great products and outstanding support!
Configuration
The skins manufacturers we've covered so far all offer skins for the outer bezel and the buttons of your Pebble Time. This is the first thing where dbrand distinguish themselves from the competition: not only can you choose skins for the outer bezel and buttons, but also for the inner bezel. They do recommend, however, that you choose different colors for the two bezels, since a combination with only one skins design will make the bezels look huge in comparison to the screen.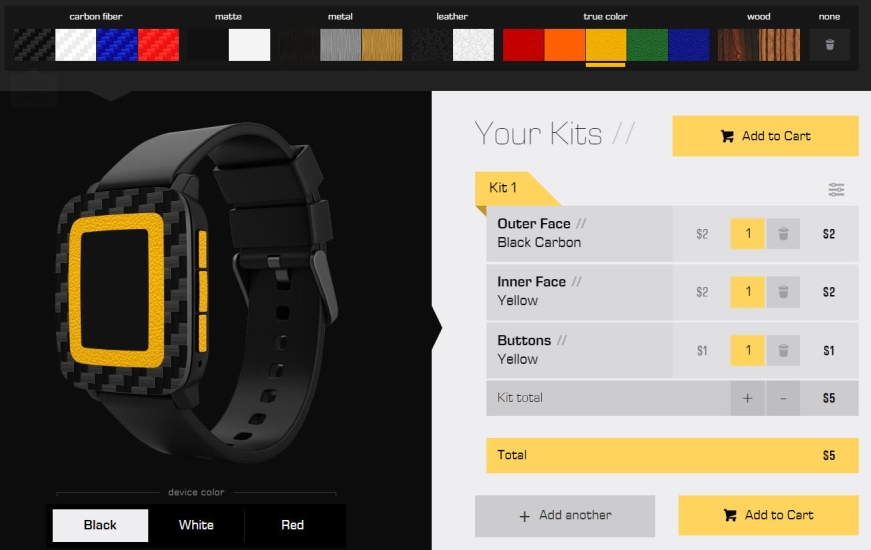 When shopping for skins for Pebble Time, most companies will allow you to choose the device, followed by the texture of your choice and finally the color. Here's another point where dbrand are different: you go to their website, look for the Pebble Time and then you can configure various "kits" with different skins to your liking. You'll be presented a live rendering of what the watch will look like with the choices you've made, so you'll get a preview of your genius design skills. This approach may be a little less intuitive to use than the competitor's solutions at first, but I quickly got hold of it and enjoyed spending some time configuring various styles for Pebble Time skin combinations.
Installation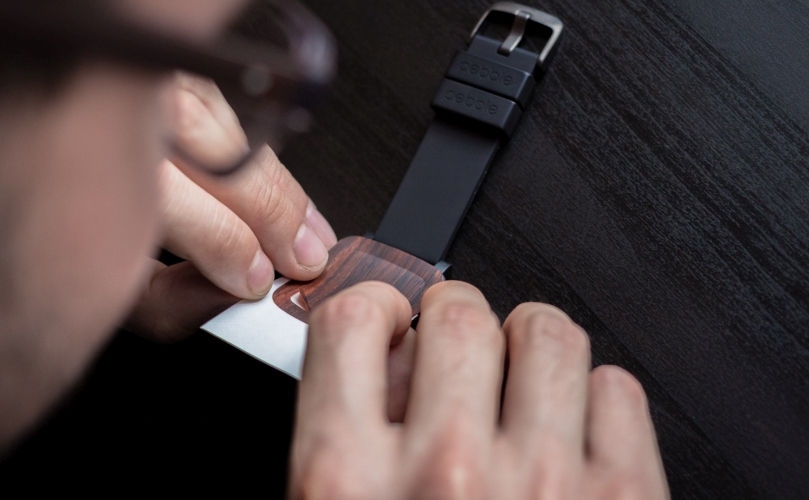 The skins come delivered in a regular letter envelope, which is why the shipping cost is only $3 worldwide. Installation can be a bit fiddly if you're trying to achieve perfect fit, but if you don't press the skins on the device too hard you can peel them off and try again. It took me about 4 or 5 attempts until I was happy with the fit. dbrand also provide How To-videos to provide you with installation instructions. They're fun to watch.
Daily Usage / Durability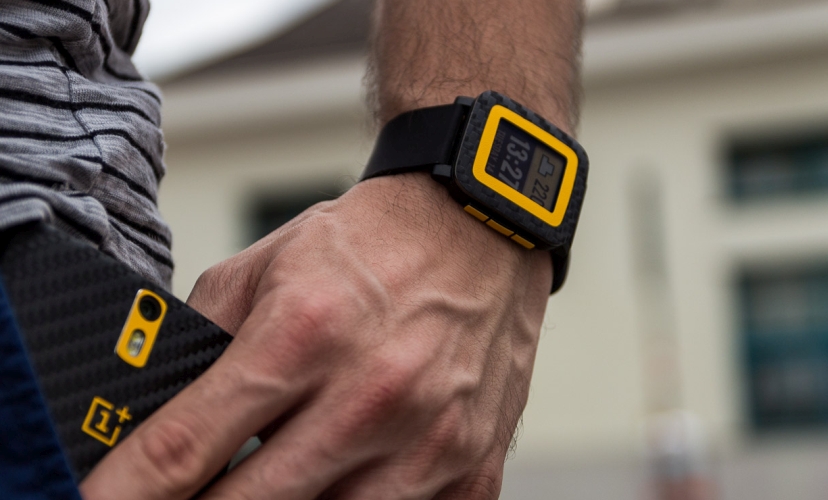 I've been wearing the first set of skins for a few days on my Pebble Time, before I switched to another combination for photo-shooting purposes. My watch has had a few minor encounters with walls and doorframes and the skins didn't show any signs or scratches at all. The adhesive seemed to stick very well and wasn't affected after washing my hands and spending some time in the rain. So I guess it's safe to say that the skins will definitely protect your Pebble Time from light scratches – I wouldn't go near it with a knife or push my luck by throwing it on raw surfaces. Some users have been complaining on reddit about the missing screen protector, to which dbrand replied that they were thinking about adding a set of screen protectors with every order.
Verdict, pricing and availability.
I've been very very happy with dbrand skins for my Pebble Time. Personally, I think it looks better with outer bezel and button skins only. Adding a skin to the inner bezel may look cool for some combinations (e.g. carbon black and another color), but I think the screen just looks a little "locked in" and one realises, how small Pebble Time's screen really is. But since that's a matter of taste, you might feel otherwise.
dbrand Pebble Time skins are available on their website. Prices are $2.00 for the inner and outer bezels, each. Button skins cost $1.00. Shipping is $3.00 worldwide.
---
Which skin combinations are your favorite? I really like the carbon look on the Pebble Time since it gives the device the "gadgety" which matches the display perfectly.
Stay tuned for a giveaway of dbrand skins packages for Pebble Time very soon!
---
Gallery with lots of eye candy