Straps, straps, and more straps. Let's face it, having a variety of straps is one of the best ways to customize your Pebble and keep it looking fresh. I've tested out a wide variety of 14mm straps to give you some ideas about ways you can make your Pebble Time Round a unique device that will turn heads.
---
Pebble Time Round Double Wrap Leather Band in Black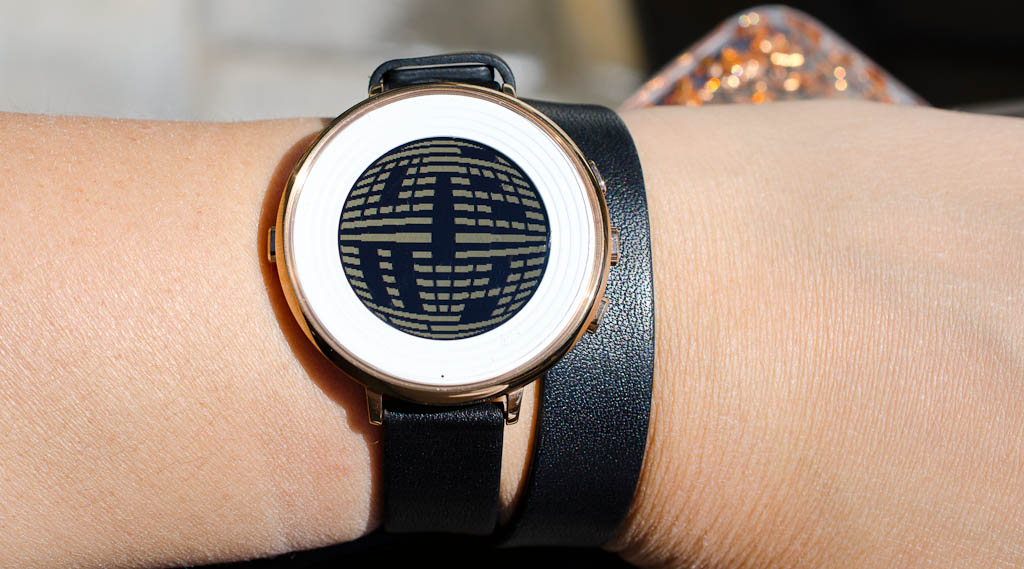 First up we have the latest strap made by Pebble and aimed at an audience of women. It's a black leather strap that wraps around the wrist then buckles like a regular watch strap. The quality is the same as the original strap (white, in my case). The only problem I has was the length of the strap. While on my white leather strap I use the third-to-last hole, on this new black strap, the very last hole wasn't tight enough for me. This also means that my vibration notifications felt weak and were more easy to miss. And with wear the leather will inevitably stretch and the fit will get worse. Yes, I'm aware that I could add an additional hole, but A) I shouldn't have to when this strap was aimed at women B) Adding a hole will look shabby and C) it will make the end of the strap stick up past the crown of the watch which would annoy me to no end. I'm not an overly picky person, but I don't have an abnormally small wrist (as demonstrated by the hole I use on the original strap) and this strap should have fit me better.
Get it here: Pebble Double Wrap Leather Band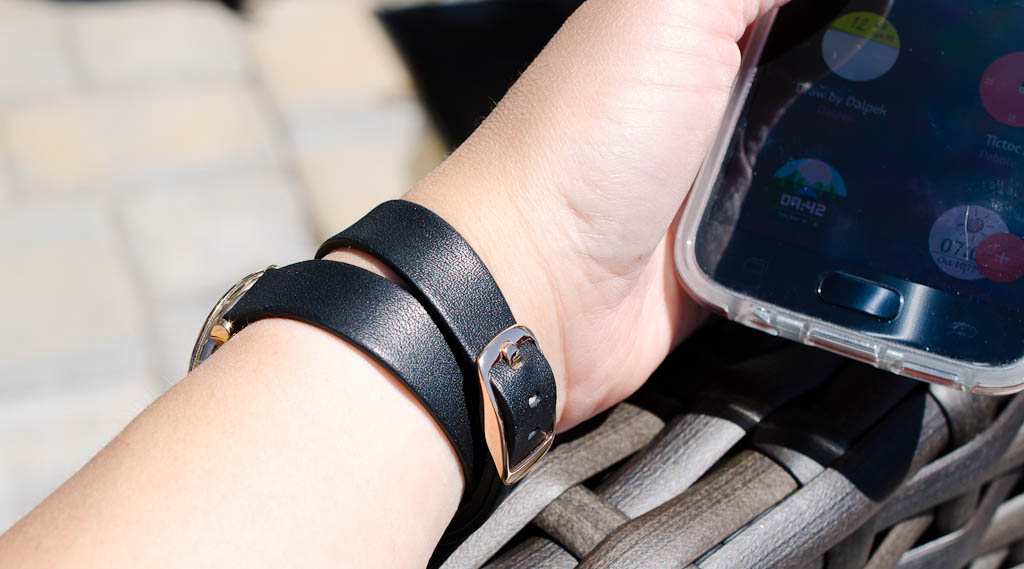 GadgetWraps Strap in Dark Grey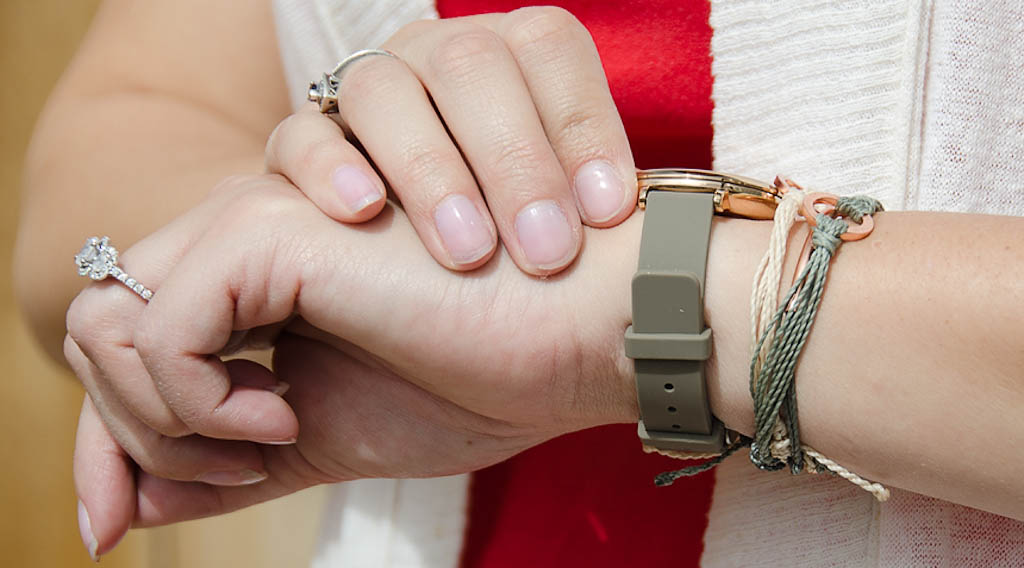 Upon taking this strap out of its packaging, I immediately noticed how soft and supple the silicone was. I love the feel of it, and it makes a very comfortable watch band. GadgetWraps also come with the same quick-release pins that come on Pebble straps. I can't begin to say how much I love this. I can change my strap to match my outfit in just a few seconds. It's no more difficult than picking out any other accessory. With the variety of colors available and the quick-release pins, GadgetWraps are a top pick for me.
Get it here: GadgetWraps Pebble Time Round 14mm Watchbands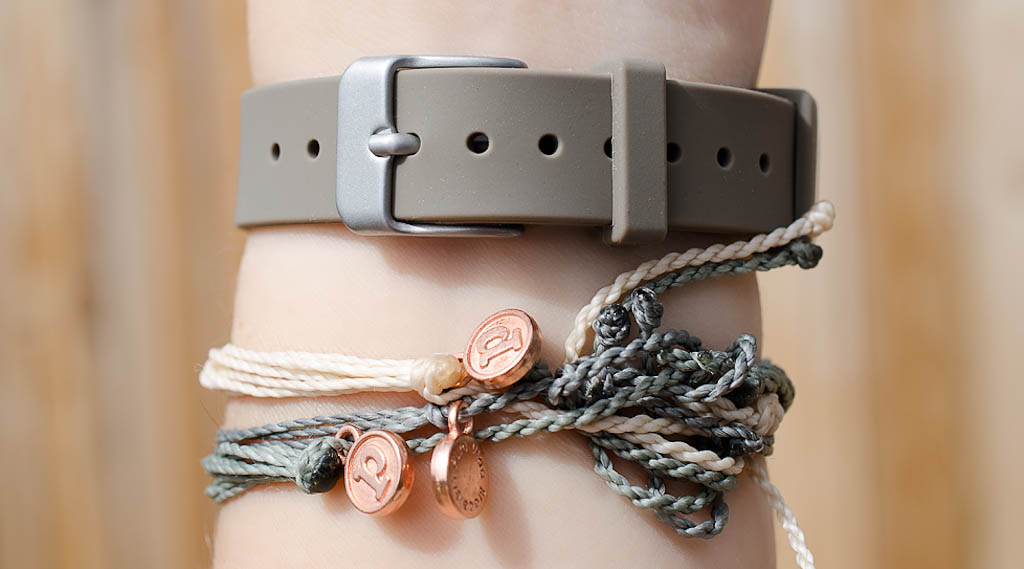 Clockwork Synergy Straps (Pink Croco Leather and Steal Blue Braided Perlon)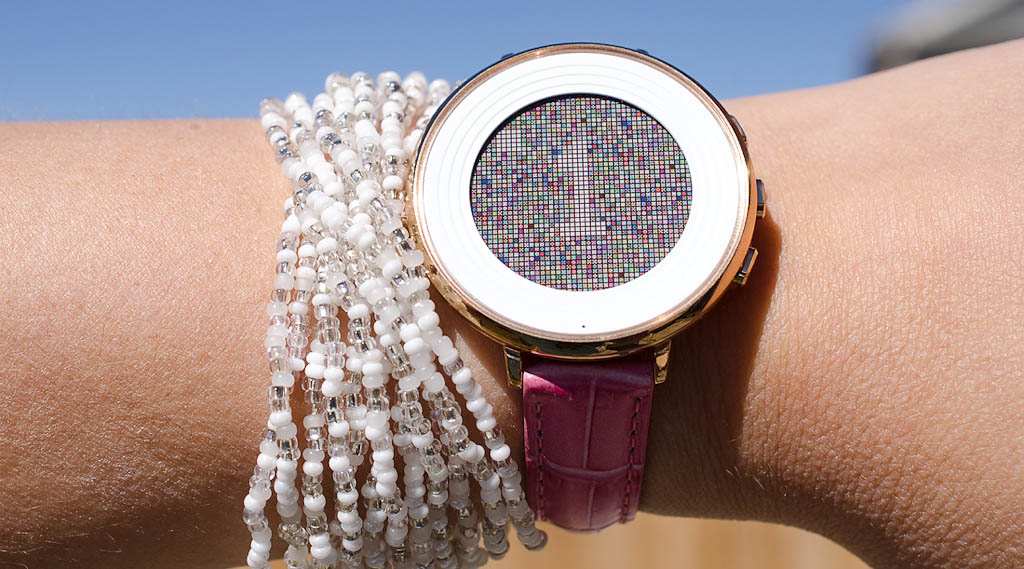 I also tried out 2 straps from Clockwork Synergy. They have a wide variety of styles available. There really seems to be something for everyone. While crocodile grain leather, in pink no less, is not really my style, I still wanted to give them an honest try. If you are looking for a formal, classic look then you are bound to find a color and grain style that match your desires. I found the strap to be comfortable and appropriately sized for my wrist. The quick release pins make this strap a cinch to use.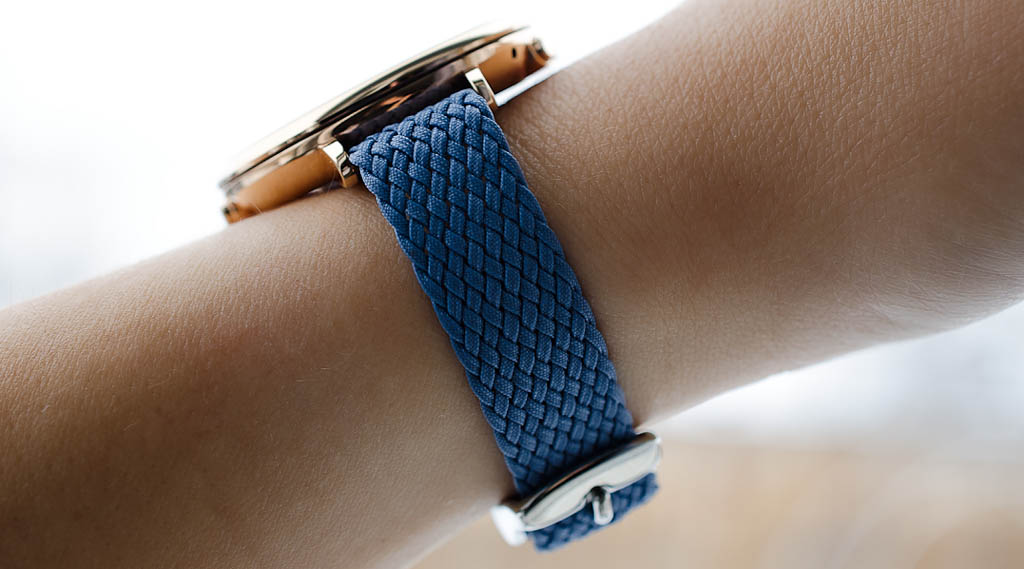 The second strap I tried was a braided perlon strap. This style of strap uses regular pins and the strap winds through them. I found this strap to be comfortable and unobtrusive. This was the first "pass-through" strap that I've tried, and I liked it more than I thought it would. I could still feel all my notifications, and the slight bump up in height didn't bother me at all.
Get it here: Clockwork Synergy Pink Croco Leather Watch Band
Get it here: Clockwork Synergy Steel Blue Braided Perlon Strap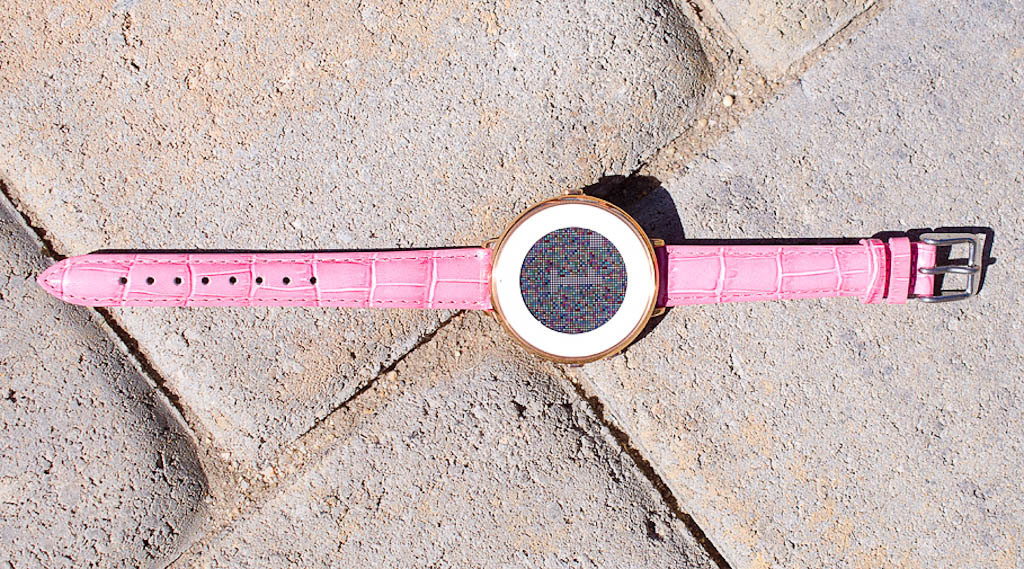 Cost Plus World Market Antique Silver Elephant Watch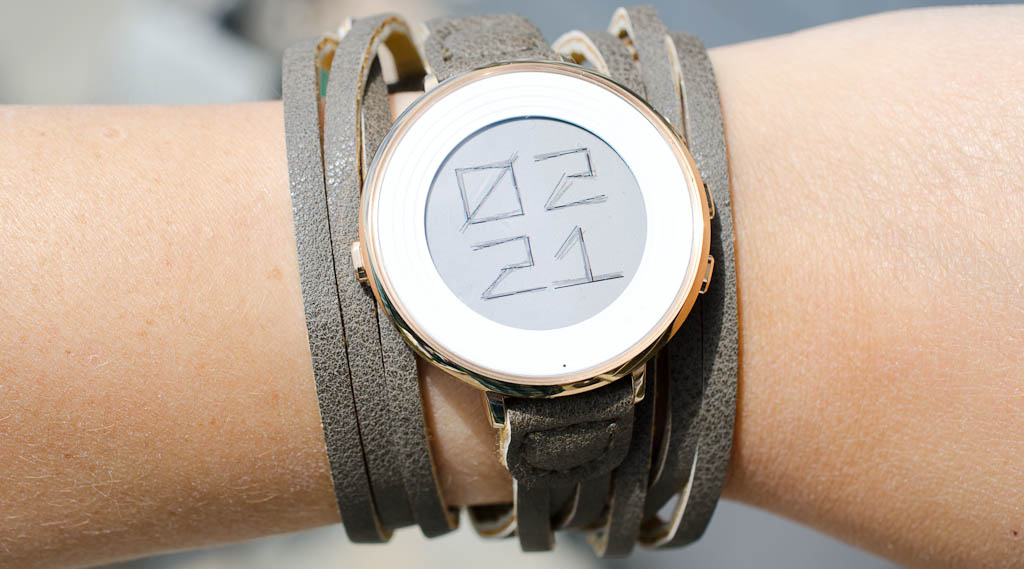 Last in my review is a strap that I consider sort of a "bonus" in this review. It's meant to demonstrate the fact that you can find straps in the strangest places if you keep your eyes open. I was in the check-out like at Cost Plus when I looked down and saw an interesting strap attached to a fairly boring watch. I held it up to my Pebble, and sure enough, it was a 14mm strap. At $25, it didn't cost any more than many of the straps out there, so I bought it and put it on my Pebble. I think it looked pretty good, and it was a style that I had been searching high and low for, but had been unable to find. The only downside was that it was pretty low quality and the leather began to separate a bit on one side of the strap. I may still be able to fix it, because I like the look a lot, and I enjoyed wearing it. I also really wish other strap makers would take the leap and design some unique, fashion forward straps that have more eye-catching appeal than the basic straps out there.
Get it here: Antique Silver Elephant Watch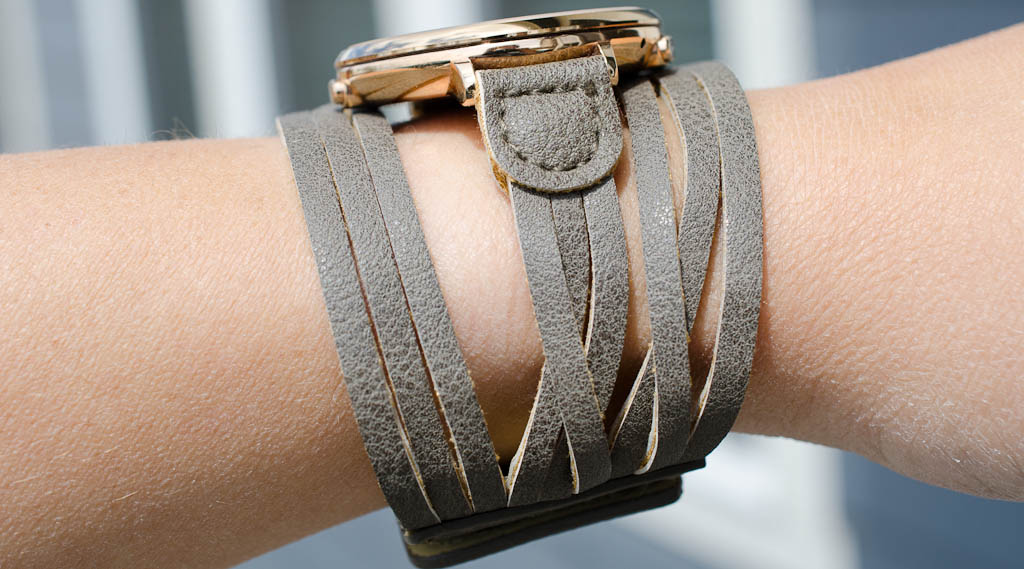 Have you stumbled upon a really cool strap? What's your favorite strap material and color combo? I'd love to get more strap ideas from our users, because I think straps are one of the best ways to dress up our wearable tech.
---
Eyecandy